This month marks the start of MGSR's next big competitive event; the Metal Gear Solid: The Twin Snakes Very Easy Tournament! 14 runners will compete in a double elimination tournament to decide a champion. But who are these stealthy speedsters? Who will be dueling with Revolver Ocelot, enduring the antics of Psycho Mantis and pulling the ears of Vulcan Raven? Let's meet the runners, and clicking on each profile image will take you to that runner's Twitch channel!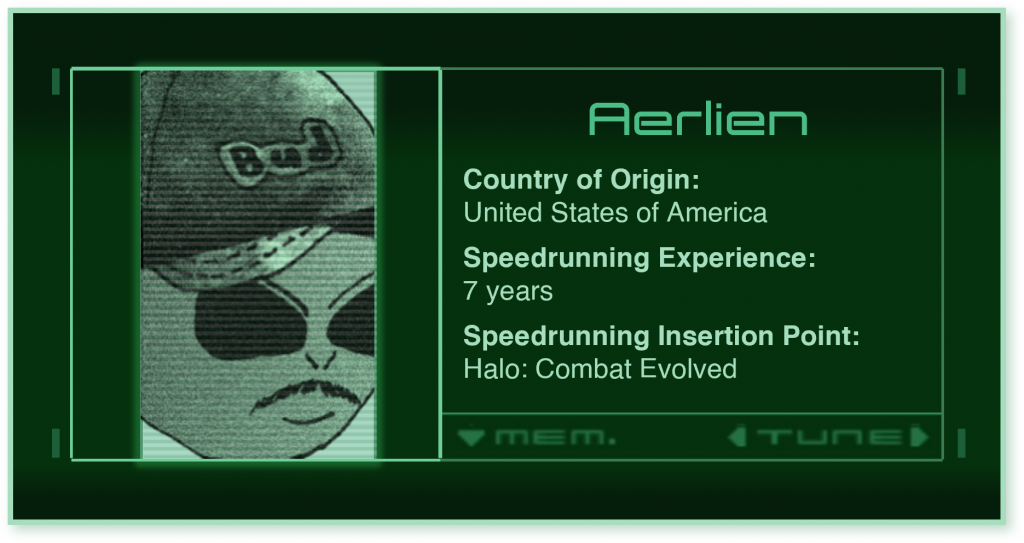 A Twin Snakes veteran, Aerlien considers the game his favorite in the series. When some fellow Mega Man Legends runners checked out the game back in the day, he joined them and was quickly hooked. His former Normal difficulty World Record is even recognized by the Guinness World Records, featured in the 2020 Gamer's Edition of the publication. With such prestige, how can any runner match up to the caliber of Aerlien? Take it from the man himself, you've got to "respect the grind."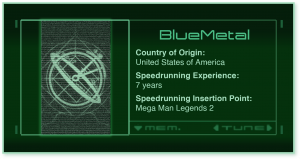 The current world record holder of Emulator – Very Easy, BlueMetal is definitely one of the favorites for the title. The common complaints of Twin Snakes don't bother him as he loves the mixture of MGS1's story with MGS2's mechanics, particularly the Disc 1 bosses up to and including Psycho Mantis. Even the "over the top nonsense" in the game's cutscenes are a selling point for him! BlueMetal's habits and mentalities for speedrunning, however, come from his time as a former top-level Guitar Hero player. MGSR is certainly all the better for him swapping the shred for speed!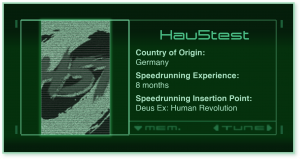 MGSR's new Event Coordinator and resident 'Statsman'. If there's a speedrunning spreadsheet in the vicinity, chances are Hau5test has had his hands on it! Whilst he prefers the original PS1 classic, Hau5test admits that the streamlined PAL Key sequence is a big part of what he likes about Twin Snakes. When learning, Hau5 compares speedrunning to playing music. Focusing on a single segment fully before moving onto the next section, just as "no musician ever sits down and replays an entire song sheet straight away". Very 'sound' advice indeed!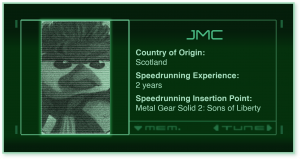 An MGS2 runner at heart, JMC is bringing his experience of those mechanics over to Twin Snakes. He claims he "needed a good boot up the arse to actually run the game!" Funnily, he considers the Tank Fight both his favorite and least favorite part of the run, completely dependent on whether it goes well or badly. But, like any good speedrunner will agree, "practice, practice, practice" is the key to success according to JMC. "Don't worry about PBing, enjoy the run as learning takes place even if you don't realize it." In other MGSR news, JMC recently joined the Social Media Team!
Stream and Social Media Team member JosephJoestar316 has built up a reputation as one of MGSR's most versatile runners, with records across multiple games in the series. Joseph's been running Twin Snakes for two years, starting because he wanted to transfer his knowledge of MGS2 over to its engine sharing sister. His philosophy for running is that you need to "pick a game that means something to you more than just getting a PB or WR." He applies this mantra to MGS4; his favourite game due to it being the first Big Boss rank he ever got and thanks to his Metal Gear Online 2 experience.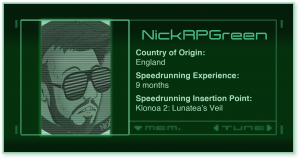 MGSR's new Website Coordinator (and writer of this blog post), NickRPGreen has been speedrunning various games "extremely casually" for the last 10 years. It was only at the beginning of 2021 that he started seriously speedrunning, starting with his favourite game in the series, MGS1 PC. Concerned about running Twin Snakes because it would be "too similar to the original", Nick's been pleasantly surprised at how the mechanics make it a completely different experience. He cites the Sniper Wolf 2 fight as the remake's biggest improvement. High praise considering he absolutely detests the fight in the original!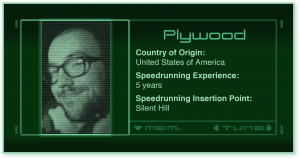 An MGSR Admin, Plywood casts a wide net when it comes to speedrunning. Including records outside of Metal Gear, Plywood has speedruns recorded in over 40 games, ranging from The Last of Us to Tigger's Honey Hunt. His best tip for pressing on through so many games? "Be patient in your development as a player and don't hold yourself to unreasonable expectations." Along with Tyler2022, Plywood got into Twin Snakes at the time of its major flux and development as a speedrun. Despite this long standing fondness, it's still MGS3 that he regards as "the total package" thanks to its fantastic blend of story and gameplay.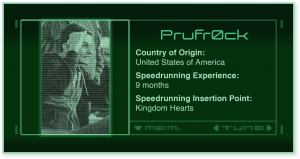 As we've seen, it's not uncommon for MGS2 runners to transfer their skills onto Twin Snakes and Prufr0ck is no exception. After running the HD Edition on the Xbox Series X for 8 months, he's turned his attention to Twin Snakes for this tournament. Those skills are helping him tackle Ninja's technically-demanding and consistent fight, the highlight of the run in his opinion. But, like many runners, it's the Tank fight that he'd rather avoid. He's preparing for his Mantis fight in a more unique way though, as he's currently training to be a doctor of psychology!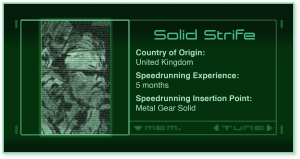 A big fan of the original, Solid Strife's first experiences with MGSR were watching and commentating for this year's MGS1 All Bosses tournament. Determined to get involved in the next competition, he jumped at the chance to learn Twin Snakes as soon as the idea for the tournament was first suggested! Solid Strife appreciates Twin Snake's quality of life upgrades, particularly the PAL Key sequence, though isn't a huge fan of the revised Tank and Ninja fights. Like Prufr0ck, Solid Strife has a degree prepared for Mantis – what is it about Metal Gear Solid that turns so many runners into psychologists?!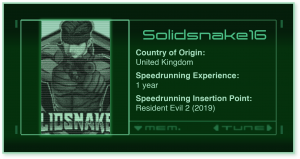 One could argue that a speedrunning marathon isn't really complete without a Metal Gear and a Resident Evil run. Luckily, Solidsnake16 has both of those covered! Picking up the game after watching Tyler2022, he considers Twin Snakes his favourite game in the series to speedrun, though still prefers the original on a casual basis. He's hard pressed to pick a favourite section of the run, but has no hesitation at calling out the Tank fight as his least favourite. Let's hope he can overcome his mechanical rival during his races!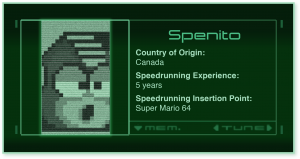 Spenito has dabbled in speedrunning for a long time. At age 10, he attempted what he struggles to describe as a 'speedrun' of The Legend of Zelda: Ocarina of Time, though he recalls it not going very well. After taking to the craft seriously in the last 5 years with several Nintendo games, Spenito hopped over to Metal Gear earlier this year. Twin Snakes was the first game in the series and the first M-rated game he ever played, so picking it up was a no-brainer. He hasn't dropped his passion for Nintendo though, as he's an avid electronics tinkerer, especially when it comes to Nintendo controllers, and hopes to open his own repair shop someday.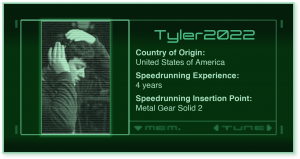 MGSR Administrator and one of the most experienced Twin Snakes runners, Tyler2022 is a name many runners first associate with the game. Currently the Console – Very Easy world record holder, Tyler has recently been playing tug-of-war with BlueMetal for the Emulator record as well. In his attempts, Tyler advises not to tilt out: "It's very easy (even for myself) to get down in the dumps about time loss or a silly mistake." Brushing them off and pushing on is his advice for getting over it. Whilst a formidable speedrunning opponent, Tyler does possess another particular set of skills; he's classically trained with the clarinet and double bass.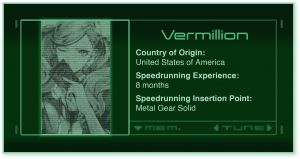 Vermillion's motive for joining the tournament isn't necessarily down to a love of Twin Snakes; he just likes entering tournaments! That's not to say he's not a fan; Twin Snakes is the game in the series he's played the most casually. Despite this, it's MGS3 that he has the most fondness for. His reasoning is that it's simply the "best overall experience in terms of gameplay, story, design, theme and everything!" When it comes to learning runs, he stresses that finishing runs and learning the end game are the most important aspects, "no matter which game you are running."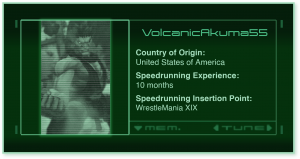 Champion of this year's MGS1 PC All Bosses League, VolcanicAkuma55 will be looking to repeat that success with the game's remake. One of MGSR's most dedicated world-record chasers, Akuma says that no run is ready to start without "prep, prep and more prep". He presses the importance of watching guides and other runners rather than repeating the same strategies and seeing minimal improvements. This advice doesn't only help with his runs, but also in his passion for combat; Akuma has been active in the New England fighting game community for over 10 years!
Those are your contestants and it's fair to say that they're all looking forward to what should be a fantastic tournament. Everything kicks off on Friday, the 17th of September, with races taking place every Friday and Sunday thereafter over the next few weeks. Keep an eye on the events section for the matchups announcement soon and as always, you can catch every race at twitch.tv/metalgearspeedrunners. Be sure to drop a follow so you don't miss any of the action!